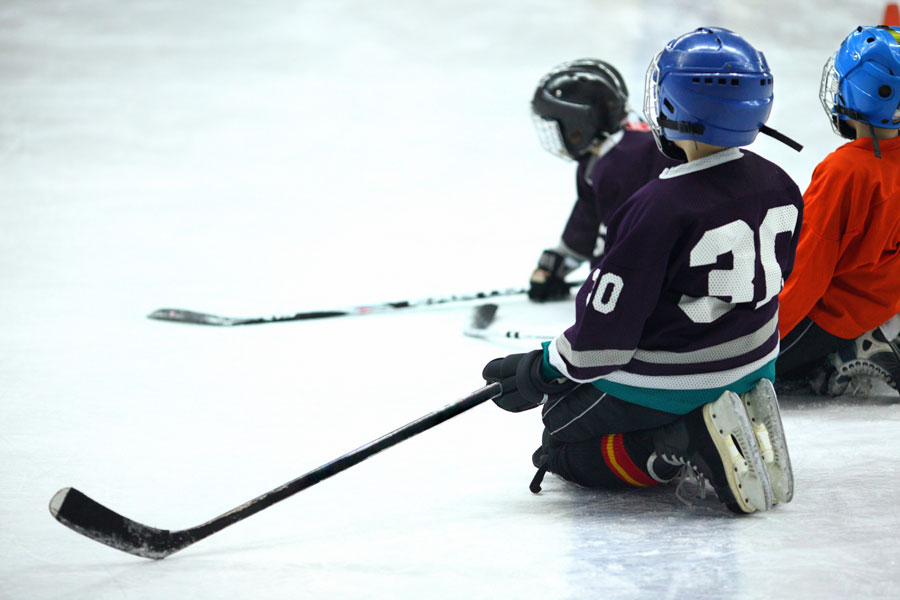 You got into league management because you love the sport and the kids, little knowing how much time you'd be spending coordinating players, officials and volunteers, along with game and facilities schedules. Administrative tasks like registration and fee collection can keep you from focusing on the success of your leagues. With ACTIVE's league management software, participants can register and pay online, then view schedules and news on your website. League organizers can manage it all behind the scenes.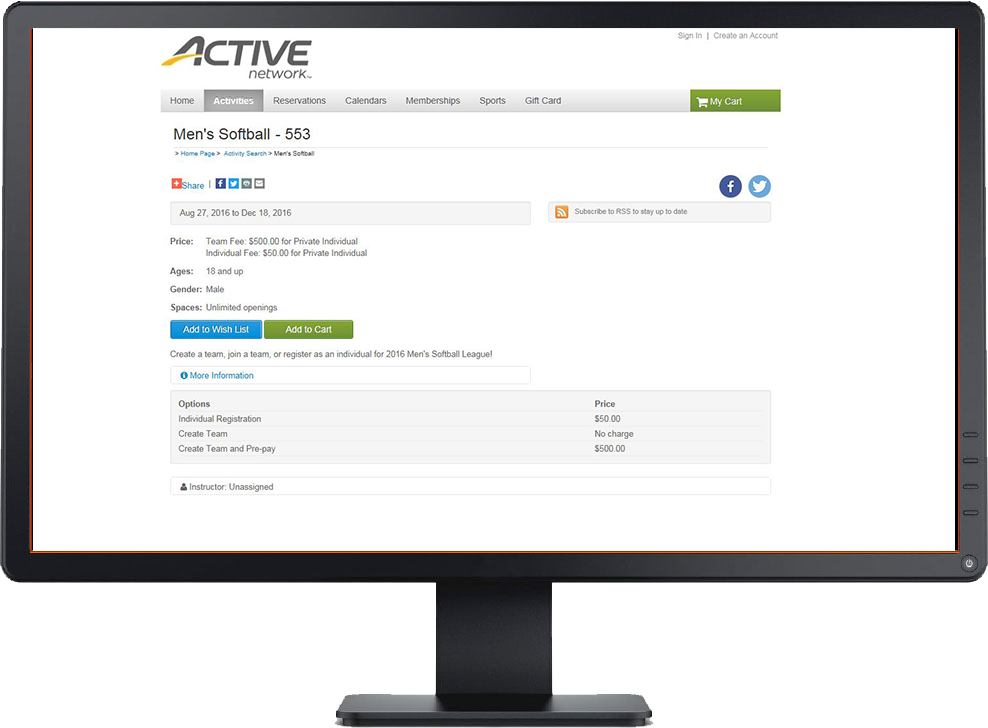 Online registration reduces the time you spend managing sign-ups.
Whether you're with a campus rec department that hosts intramural leagues, recreation sports, or a YMCA offering youth leagues and adult leagues, online registration makes it easy for people to sign up. Your customers and staff members save time, making registration convenient and easy for all. Allow team registration and create team accounts and collect online payments through the league management software system. When signing up is simple, more players get in the game.
Learn more about online access.
Managing your leagues is easy the first year, and even easier next year.
As the league organizer, you'll be able to create leagues online with customized no-play dates, season lengths, number of games per night, and more. Post descriptions online, add in the teams, and assign players seamlessly through the sports management software. And when next season rolls around, you can reuse the league information to save time.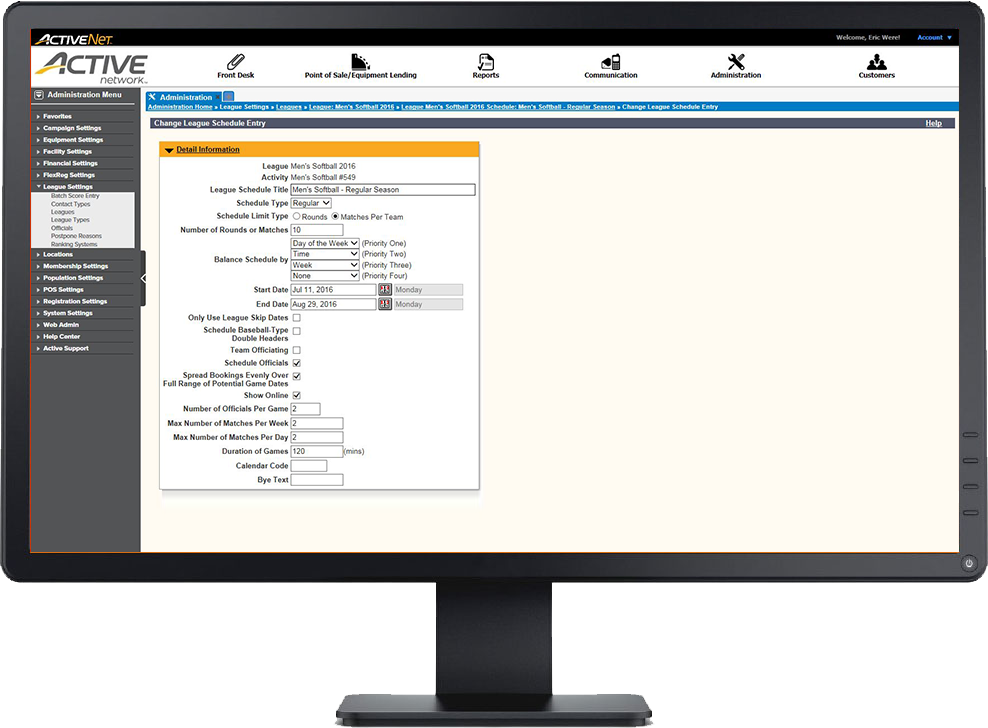 Building Schedules
With league scheduling software, you can quickly and easily create schedules that fit the parameters of your league – selected nights, venues, times, number of games, etc. With this feature, you won't have to jump into Excel or search Google for ways to create schedules. All of the information stays in one place so it's easy for you to launch schedules and change them as cancellations happen.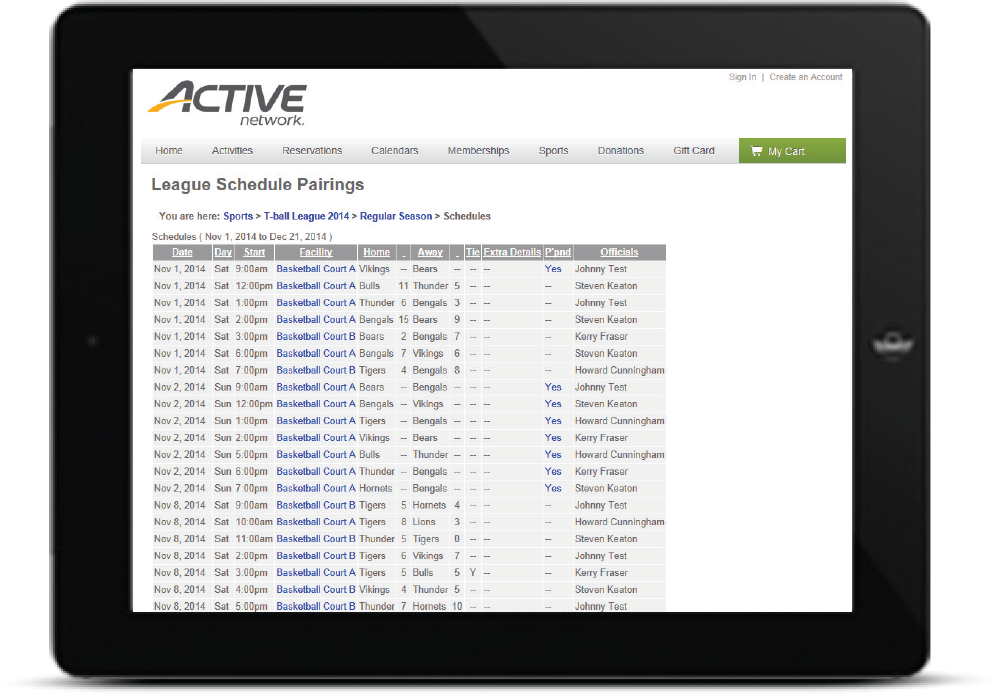 Automatic coordination of league schedules with field and court bookings is the best kind of win.
Does your current league management system integrate with your recreation management system? With leagues managed in Excel, facilities booked manually, and registrations done through online software, it can get chaotic. With ACTIVE Net, your league details are communicated to your facilities behind the scenes. That way, fields and facilities are automatically booked based on game times and locations.
Learn more about facility scheduling software.
Communicate quickly when there's a change everyone needs to know about.
The looming thunderstorm during baseball season or snow storm during basketball can keep a league organizer up at night. When do you cancel the games? What is the best way to pass the information to coaches, parents and players? We can't tell you when to cancel, but our software does let you quickly send text messages and emails to organized lists of teams, players and officials.